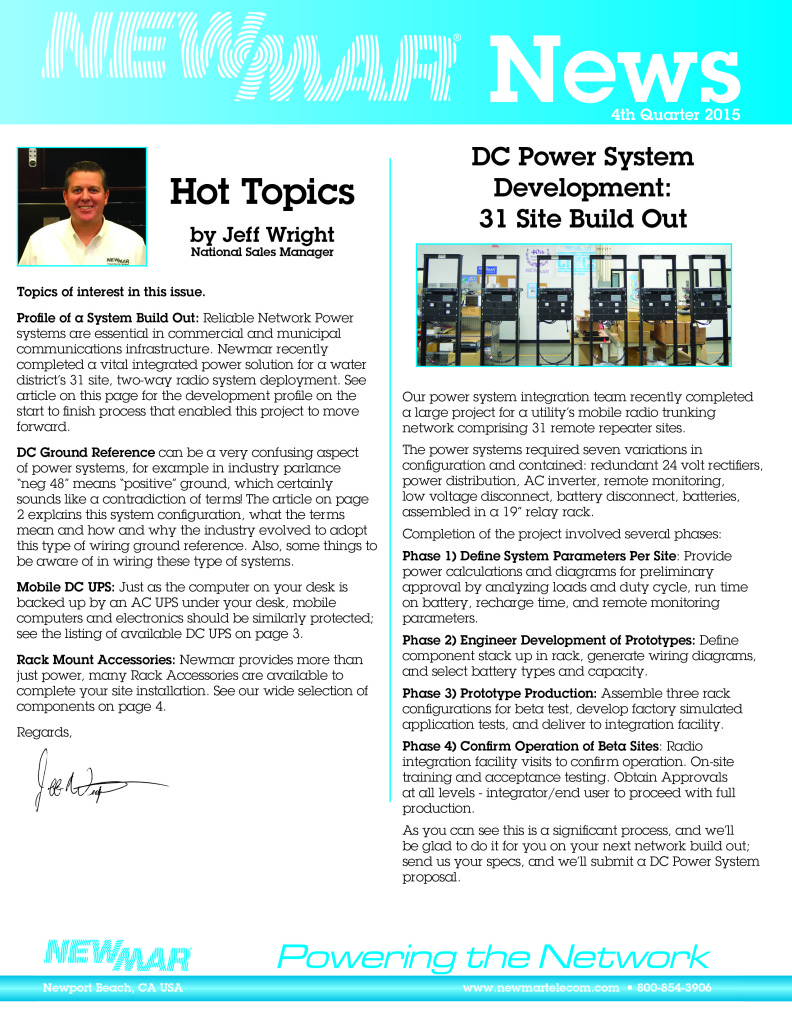 Hot Off the Press
View the digital online version of the 2015 1st quarter Newmar News for interesting news and information.
Topics of interest in this issue.
Profile of a DC Power System Build Out: Reliable Network Power systems are essential in commercial and municipal communications infrastructure. Newmar recently completed a vital integrated power solution for a water district's 31 site, two-way radio system deployment. See article on this page for the development profile on the start to finish process that enabled this project to move forward.
DC Ground Reference can be a very confusing aspect of power systems, for example in industry parlance
"neg 48" means "positive" ground, which certainly sounds like a contradiction of terms! The article on page 2 explains this system configuration, what the terms mean and how and why the industry evolved to adopt this type of wiring ground reference. Also, some things to be aware of in wiring these type of systems.
Mobile DC UPS: Just as the computer on your desk is backed up by an AC UPS under your desk, mobile computers and electronics should be similarly protected; see the listing of available DC UPS on page 3.
Rack Mount Accessories: Newmar provides more than just power, many Rack Accessories are available to complete your site installation. See our wide selection of components on page 4.
View Newmar News