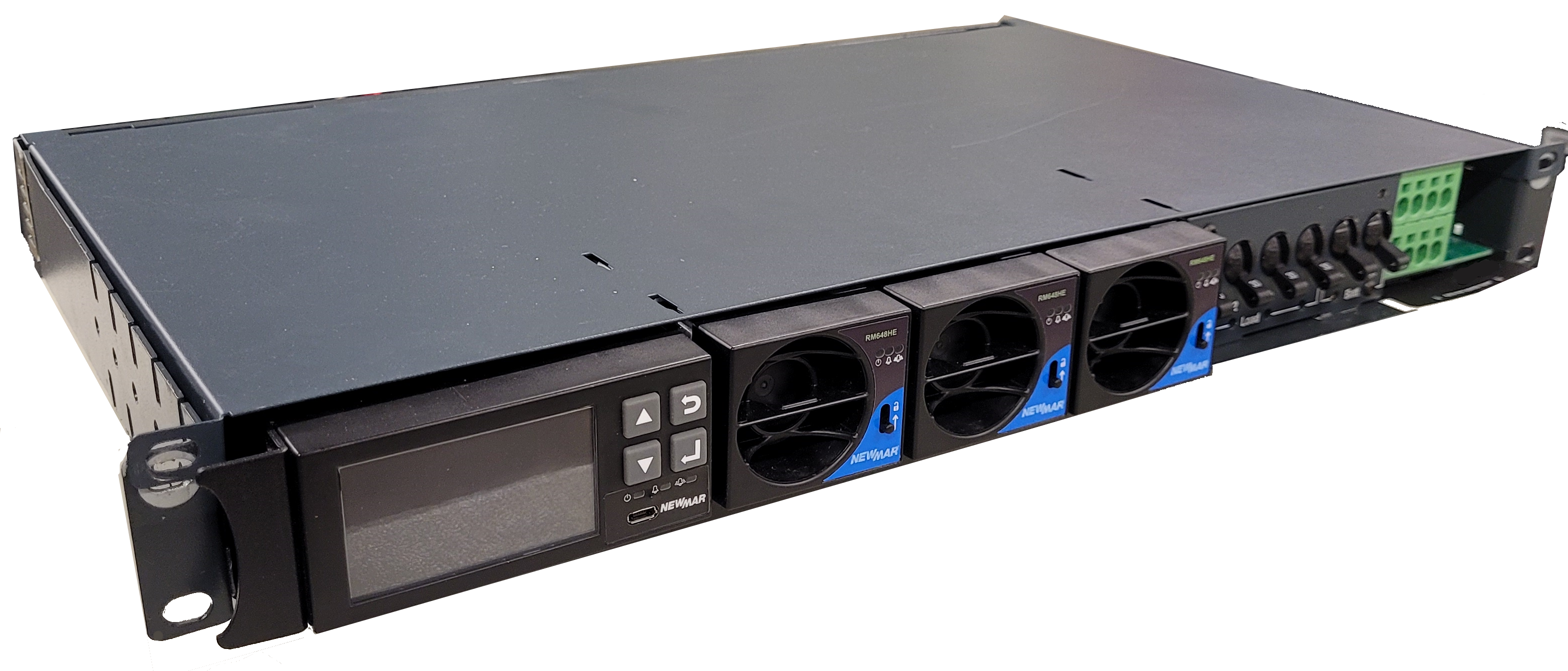 -48V, 1,800 Watt, Fully Integrated, Redundant DC Power System
Incredible Functionality, and Scalability in a 1 RU, 600 Watt to 1.8 Kw DC Power System
Features
19″, 1U rackmount shelf with integrated power distribution and SNMP digital controller
90-250 VAC input, power factor corrected
3 power bays accept 600 watt modular rectifiers, -48V
33 amp, 1800 watt total max. output capacity
Output temperature compensated for precise battery charging
4 DC circuit breaker distribution capacity, with tripped breaker alarm
Master disconnect breaker for two battery banks, with tripped breaker alarm
Controller with digital display of system parameters with TCP/IP interface and SNMP monitoring/logging
Alarm contacts monitor major system functions
Low voltage disconnect built-in
Easily configures to meet site power requirements
Complete system design and integration by Newmar to your application parameters: Rectifier configuration, installation of distribution circuit breakers, and configuration of alarms and monitors. Assembly in a relay rack with batteries and wiring also available. Let us submit a proposal on your next project. All system components are sold separately.
Specifications: Sentinel DC Power System
System Power Configurations @ 48V, 90-300 VAC Input
Watts Per Rectifier
# of Rectifiers Installed
1
2
3
600
11A (600W)
22A (1200W)
33A (1800W)
Sentinel Shelf, Rectifiers and Breakers sold separately
AC Input:
Nominal: 115 or 230VAC
Voltage Range: 90 - 300V
Frequency Range: 45 - 100Hz
Power Factor: >0.99
Efficiency: >92% (>50% output power)
DC Output:
Voltage: -48 Volt
Output Ratings: Constant Power Output From 54V To 58V
Nominal Voltage: 48V
Rated Voltage: 54V
Power:
Rated maximum System Output Power: 1800W @ 54V
Polarity: Positive Earth. 48 Volt
Individual Rectifier Power: 600 Watt
Amperage @ 115 or 230 VAC in 4.2
DC Distribution:
Load: 4 breaker position capacity, available amperages (specify) 6A, 10A, 15A, 20A, 25A, 30A, with tripped breaker alarm
Battery: 2 x 30A battery circuit breakers.
Breaker Fail Detection: Electronic fail detection on both load and battery. Breakers
Low Voltage Battery Disconnect: 80A battery LVD installed standard, with disconnect alarm
Monitoring & Control:
Monitors all DC power system conditions including DC voltage, rectifier current, battery current, battery temperature, and distribution failure. Visual notification of alarm conditions by LED's and a 4 line x 16 character alpha numeric display mounted on the front panel, with remote notification being enabled by relay contacts, RS232 or TCP/IP (using SNMP). It has built-in web based controls allowing setup of system parameters using a web browser and utilizes a USB communications port which allows for local monitoring of system operations as well as easy downloading of configuration files for multiple site installations.
General System
Protection:
Current Limit: Adjustable to 50-100% of maximum rated current.
Over Temperature: Automatic current reduction, backup shutdown protection.
Polarity Reversal: Output fuse with crowbar diode.
Over Voltage: Adjustable limit.
Input Voltage: Auto shutdown, auto restart when correct voltage restored.
Input Inrush: <2x maximum input current.
Input Fuses: In phase and neutral.
Technical Characteristics:
Noise: Ripple <100Hz: <1mV rms unweighted
Voice band 100Hz-5KHz: <2mV rms psophometric
Wide band 5kHz-1MHz: <5mV rms unweighted
Peak to Peak 0-20MHz: <50mV peak to peak
Isolation: Input to Output: 4000V DC.
Input to Chassis: 3500V DC (VDR to chassis removed)
Output to Chassis: 2100V DC
Regulation: Line = +/-0.1%, Load = +/-0.5% (no load to full load)
Mechanical:
Shelf Dimensions: 19" W x 1.75" H x 10.2" D
Weight: 19.84 Lbs. (excluding rectifier modules)
Rectifers Dimensions: 2.2" W x 1.7" W x 9.25" D
Weight: 1.7 Lbs
Cooling: Forced cooled
Environmental:
Ambient Temperature: Nominal
Range: -20˚ C to +70˚ C (maximum output power is derated above +50˚ C
Humidity: 0-98% RH (non-condensing)
Altitude: <3,000 M., De-rate maximum ambient temperature by 4˚ C per 1,000 M. above sea level.
Compliances:
Safety: EN60950
Electrostatic Discharge: CISPR24
Radiated Radio Freq: CISPR22
AC Harmonics: EN61000-3-2
AC Flicker & Fluctuation: EN61000-3-3
Other: CE & RoHS compliant
Options:
Wiring Option: Battery Cable, 8 AWG, 7' Length (P/N: 433-8007-0)
23" Mounting: 23", 1U adapters are available (P/N: 433-1023-0, model SRS-1U