Annunciator Panel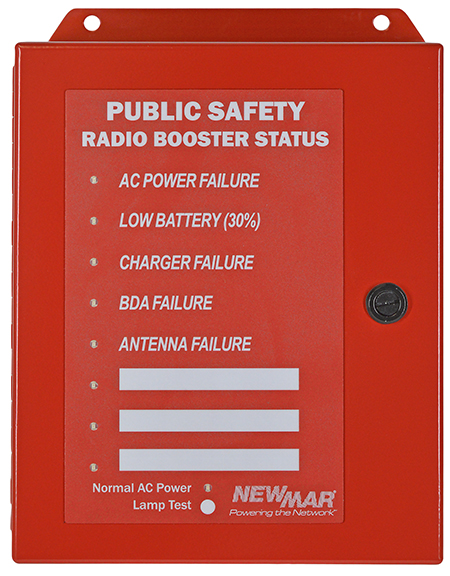 Annunciator Panel, model AP-8000B, is designed to meet NFPA 1221 standards for a dedicated BDA and BDA battery backup annunciation panel. Contained in a compact NEMA 4 enclosure, the audible and visual alarm annunciator is a companion to the PE Series power enclosures and features eight Form-C alarm relays. The first five alarms are wired for NFPA mandated alarms; AC Power Failure, Low Battery, Charger Failure, BDA Failure, and Antenna Failure. Three additional alarm relays are available for site customization per UL Standard 2524; additional alarms could include Donor Antenna Disconnection, Active, RF Emitting Device Malfunction, System Component Malfunction, and more. A normal AC power LED and lamp test button are included.
FEATURES
NEMA 4 enclosure, powder coated steel
Front panel "test" alarm button
Ultra bright light emitting diodes
Microprocessor controlled
Wide operating voltage range: 12, 24 and 48 volt systems
Eight (8) Form-C alarm relays
Alarm silence button (24 Hrs.) located inside enclosure
Easily adapted to fit nearly any situation, 12, 24 and 48V DC battery back-ups
Selectable Alarm Input: can be activated by contact open (default) or contact closure upon alarm
SPECIFICATIONS
Input: 9 - 60V DC
Input Current Draw: <100 mA
Max. Power: 4.5 watts
Operating Temperature: -4 to 122° F (-20 to 50° C)
Heat Dissipation: <12 watts (worst case)
Relay Switching Current: 2-Amp DC (resistive)
Enclosure: NEMA-4, UL listed, welded steel with IP-66 rating, quarter turn latch, bonding studs on door and enclosure, continuous stainless steel hinge with welded brackets for enclosure mounting, one each NPT-1/2 and NPT-3/4 liquid tight cord grips included.
Enclosure Size including Mounting Flanges (H x W x D): 11.375" x 8" x 4.75"
Weight: 7.35 lbs.
OPTIONS
Master/Slave Multiple Annunciators: Allows 1 master and up to 15 remotes to be wired in sequence via RS-485 connectivity
Summary Alarm (Auto Dialer): Alarm relay #8 can be re-programmed via DIP switch to act as a summary alarm for alarm inputs #1 - 7 in order to activate an auto dialer or other device.
Loss of Annunciator Panel Power Alarm: Provides a normally closed alarm contact that opens upon loss of power to annunciator panel. Contact factory for more information