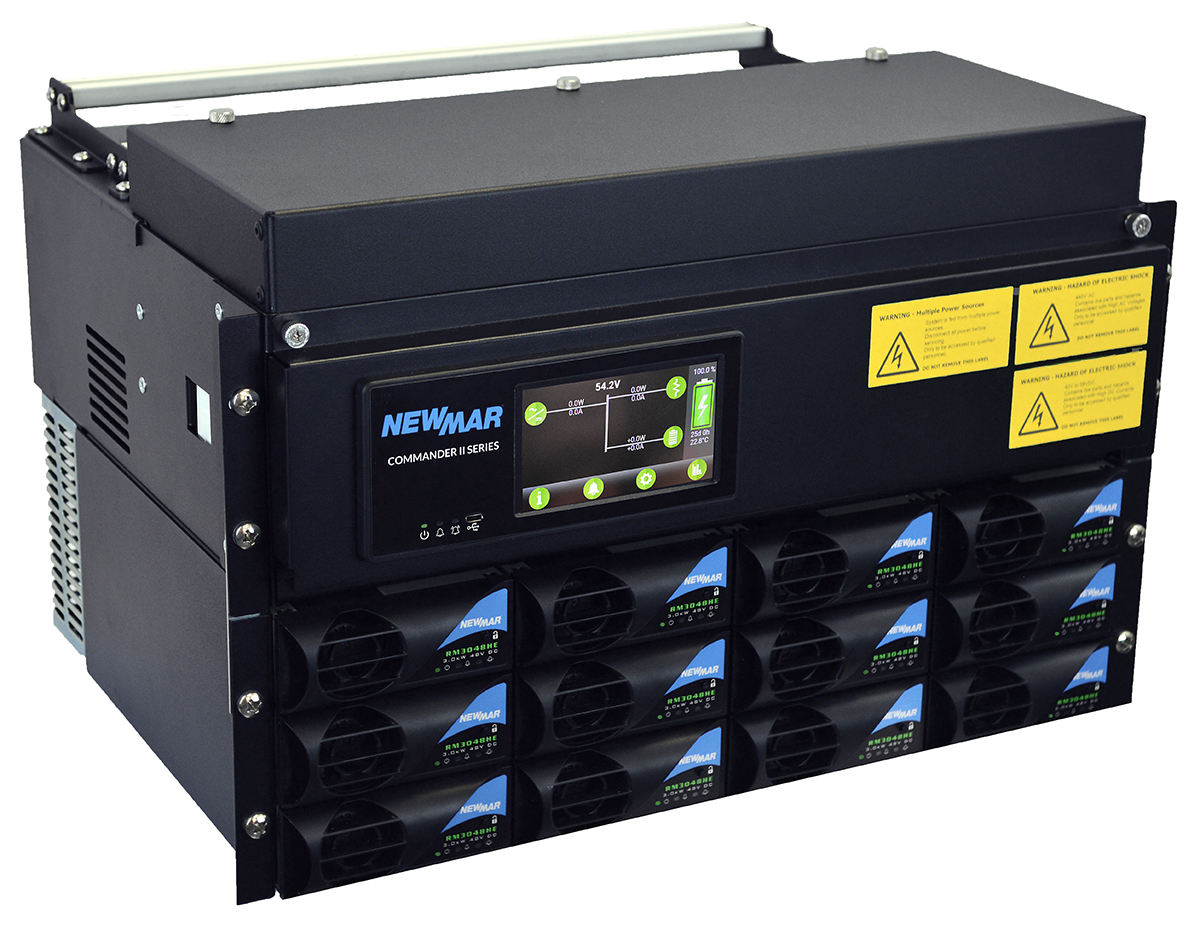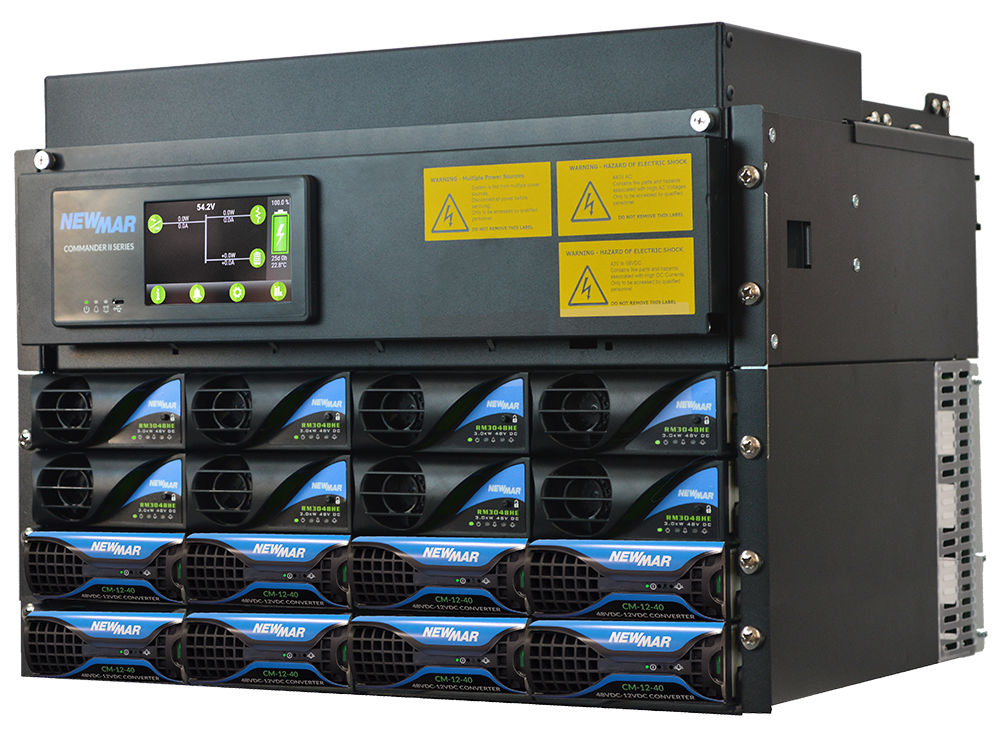 Ensure your site has power when it needs it most with the Commander II Series of DC power systems, the next generation of robust power plants.
The Commander II Series offers top of the line power and reliable performance while providing complete customization when it comes to functionality, scale, and management. The system comes with a web-based monitoring and troubleshooting platform that can be entirely tailored to fit individual needs, providing a completely remote management tool that delivers real-time data at your fingertips.
This system offers hot-swappable modules for quick and easy deployment, minimizing installation time and maximizing uptime, and comes with a one-year warranty. When searching for dependable and reliable DC power system for your next deployment, trust the Commander II & II+ to offer The Powerful Difference.
Commander II & II+ Q&A with Newmar's Robert Roush
Watch Newmar's Director of Product Management, Robert Roush, answer some of the most common questions we receive about the Commander II & II+.
REQUEST ADDITIONAL INFORMATION:‬
COMMANDER II -48V DC Power System
COMMANDER II+ -48V DC Power System
7U Rack mount shelf w/ power distribution
Up to 8 RM3048HE 48V Rectifiers
Up to 8 CM12-40 or CM24-40 (choose one voltage only, no mixing)
Complete system design and integration by Newmar to your application parameters: Rectifier configuration, installation of distribution circuit breakers, and configuration of alarms and monitors. Assembly in a relay rack with batteries and wiring also available.
Let us submit a proposal on your next project. All system components are sold separately.
AC Input
Nominal: 230V
Voltage Range: 85-300 VAC (reduced power below 190V)
Wiring Options: Three two wire Single Phase 208-240VAC
Frequency Range: 45-65 Hz
Power Factor: >0.99
Efficiency: >96.3% (peak)
DC Output
Output Ratings: Constant power output from 43V to 60V
Nominal Voltage: 48V
Rated Voltage: 54V (Factory default)
Power
Rated maximum System Output Power: 36,000W @ -54.0V (667 Amps), 720 A @ 48V
Polarity: Positive Earth (or specify)

Individual Rectifier Power:


| | | |
| --- | --- | --- |
| (48 volt) | | 3000 watt |
| Amperage @ 230 vac input | | 16.5A per Rectifier, 66 A max per input (four rectifiers) |
| | | |
DC Distribution
Load: 18 breaker position capacity, available amperages (specify) 6A, 10A, 16A, 20A, 25A, 32A, 40A, 50 and 63A tripped breaker alarm
Battery: 4 x 125A battery circuit breakers
Breaker Fail Detection: Electronic fail detection on both load and battery breakers
Low Voltage Battery Disconnect: 500A battery LVD installed standard, with disconnect alarm
Monitoring & Control
The Commander II series is designed to allow a customized DC power solution with all the benefits of a standard "off the shelf" system. The system is intended to be a complete power system in a box with no connections needed to be made internally. The system is designed to be extremely simple to install and set up. The Commander II series access to system parameters and alarms through the integrated touchscreen display or accessed via the integrated web server and custom GUI. The system provides remote notification and monitoring via RS232 or TCP/Ip (using SNMP). All the DC connections are made from the front of the unit, AC on rear. The system can be customized to suit most requirements whilst maintaining a robust and smart user experience.
General System
Protection
Current Limit: Adjustable to 50-100% of maximum rated current.
Over Temperature: Automatic current reduction, backup shutdown protection.
Polarity Reversal: Output fuse with crowbar diode.
Over Voltage: Adjustable limit.
Input Voltage: Auto shutdown, auto restart when correct voltage restored.
Input Inrush: Input Fuses: In both phases.
Technical Characteristics
Noise, Commander II & II+: 0-20MHz <100mV Peak to Peak
Noise, Rectifier:
• Ripple Below 100 Hz <10mVrms Unweighted
• Voice Band 100 Hz to 5 kHz <2mVrms Psophometric
• Wide Band 5 kHz to 1 MHz <10mVrms Unweighted
• Peak to Peak 0 to 20 MHz <100 mV peak to peak
Isolation, Commander II, Commander II+, & Rectifier:
• Input to Output: 4000 VDC
• Input to Chassis: 3500 VDC (VDR to chassis removed)
• Output to Chassis: 2100 VDC
Regulation, Commander II & II+: Line = +/-0.1%, Load = +/-0.5% (no load to full load)
Mechanical
Shelf Dimensions: Commander II 19" W x 10.5" H x 15.0" D
Shelf Dimensions: Commander II+ 19" W x 12.25" H x 15.0" D
Weight, Unit: 35.15 lbs. (excluding modules)
Weight, Rectifier: 3.3 lbs.
Rectifier Dimensions: 4.39" W x 1.73" W x 11.1" D
Cooling: Forced cooled, front to rear
Environmental
Ambient Temperature: Nominal: 25+/-5˚ C
Range: -20˚ C to +70˚ C (maximum output power is derated above +45˚ C)
Humidity: 5-95% RH (non-condensing)
Altitude: <2000m (<6562 ft).
Compliances
Safety: EN60950
Electrostatic Discharge: CISPR24
Radiated Radio Frequency: CISPR22
AC Harmonics: EN61000-3-2
AC Flicker & Fluctuation: EN61000-3-3
Other: CE & RoHS compliant