An integral part of an in-building solution for emergency response radio coverage is the backup power system. NFPA codes relating to the autonomous operation and monitoring of the BDA power is quite stringent. These back up power enclosures were engineered to meet every aspect of NFPA 72 and provide integrators configuration flexibility and rapid delivery directly to site, batteries included.
Features
• NFPA Compliant
• All Required monitoring alarms
• Batteries included
• Choose capacity to match system requirements
• NEMA 4x Enclosure
• Choose wall mount case size A or B
• Prewired internal & external, with waterproof feed thru' s for easy on-site connections:
• Customization to meet local AHJ 's requirements
---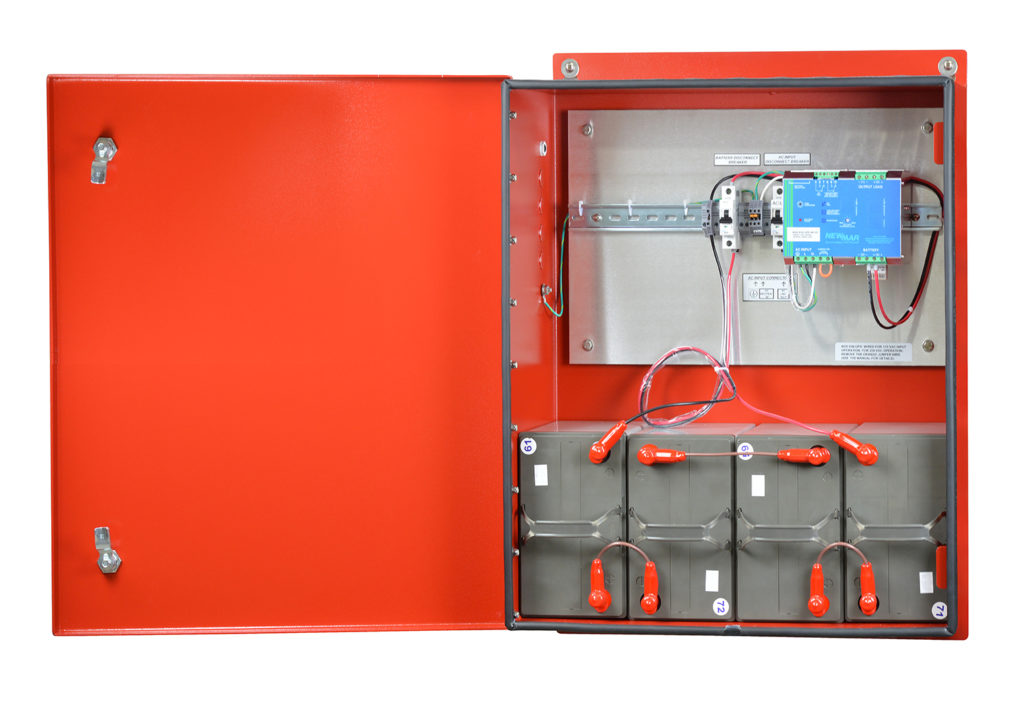 Specifications
Input: 115 / 230 VAC
Outputs: Available in 12, 24, 48 VDC and 100 VAC, with 120, 240 and 480 Watt DC UPS
Protections: Battery breaker, AC input breaker, NEMA 4x enclosure
NFPA Compliant Alarms (Form C, Dry Contact)
• AC fail
• Battery discharged to 30% of capacity
• Charger fail
Batteries Included: maintenance free, valve regulated, sealed lead acid, 18, 55, and 100 AH capacity
External wiring:
• AC Input: 16 AWG, UL 3 conductor, SJT jacket , 12', with molded plug
Enclosure: NEMA 4x, IP 65, welded aluminum with IP 65 battery vent and locking door with 4 each 1/2" knock-outs for cable entry on sides and bottom (16 total), IP 65 cable entries. Red powder coat wall mount.
Optional Configurations/Components
• Input/Output wire lengths/terminations/plugs
• Ethernet/SNMP monitoring and data logging (see model SPM-200 for specifications)
• Battery temperature compensation sensor
• Inverter installed – AC UPS
| Model | DC Voltage | DC UPS Power | Battery Capacity | Dimensions (H x W x D) |
| --- | --- | --- | --- | --- |
| PE-12-120W-18AH | 12 VDC | 120 Watts | 18 | 26″ x 22″ x 10″ |
| PE-12-120W-55AH | 12 VDC | 120 Watts | 55 | 26″ x 22″ x 10″ |
| PE-12-120W-100AH | 12 VDC | 120 Watts | 100 | 26″ x 22″ x 10″ |
| PE-24-240W-18AH | 24 VDC | 240 Watts | 18 | 26″ x 22″ x 10″ |
| PE-24-240W-55AH | 24 VDC | 240 Watts | 55 | 26″ x 22″ x 10″ |
| PE-24-240W-100AH | 24 VDC | 240 Watts | 100 | 26″ x 22″ x 10″ |
| PE-48-480W-18AH | 48 VDC | 480 Watts | 18 | 26″ x 22″ x 10″ |
| PE-48-480W-55AH | 48 VDC | 480 Watts | 55 | 26″ x 22″ x 10″ |
| PE-48-480W-100AH | 48 VDC | 480 Watts | 100 | 19" x 24" x 20" |
| PE-110-100W-100AH/24V | 110 VAC | 100 Watts | 100 | 26" x 22" x 10" |
---
Preliminary: Specifications subject to change