RPS Power Systems
RPS Rack Power Systems feature PM Series Rectifiers and PFM Controller.
Our engineering team offers comprehensive system integration services, including consultation, configuration, manufacturing, assembly, test, and delivery of fully integrated and functional power plants. We provide rapid delivery of complete systems, precisely tailored to meet your site requirements. See opposite page for basic menu of components offered in configuring your system.
Project Consultation
The process begins with a comprehensive analysis of your project's power requirements, offering comprehensive solutions based on all relevant factors, including:
Load requirements and tolerances
Site AC power considerations
Hot swap and hot standby configuration
Co-location compatibility
Fault tolerance/redundancy
Back-up battery run time calculations
Power distribution requirements
Remote monitoring and alarming
Engineering and Configuration
A comprehensive project proposal with a detailed diagram of the proposed custom power system is submitted to you for approval.
Rack Assembly
All necessary components are installed and wired in racks or cabinets according to the particular site requirements. These components are typically manufactured and stocked by NEWMAR, thus assuring high reliability and short lead times for system delivery.
Testing
Each rack component undergoes rigorous "burn-in" testing individually, then the assembled rack system is again fully tested under simulated site load and function conditions to ensure maximum reliability.
Documentation
Custom user manuals are provided with each system, consisting of detailed operation and troubleshooting instructions for each system component, complete schematic diagrams.
Shipment
Each rack system is rigidly secured to a custom-built shipping skid and air ride trucked directly to your installation site.
After Sale Support
A duplicate system file, including detailed photo of the assembled power plant, is maintained at the
factory in order to provide ongoing technical support of the system, as needed.
---
Select from the following components to configure your system.
Power Modules

Power Function Manager - PFM-400

Provided Functions:
Low Voltage Disconnect
Metering
Rectifiers and Battery Tie Points
Distribution circuit breakers
---
 Options

Additional Distribution Panel
---
Batteries & Accessories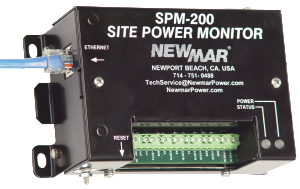 ---
Remote Monitoring