Reboot -48V DC Equipment Without Getting Your Shoes Dirty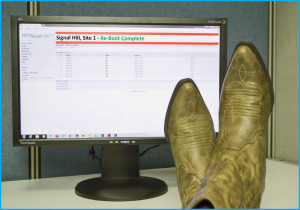 Picture this scene at the network operations center:
Friday night, 4:45. The call comes in, "Hey Joe, looks like the 48 volt router on our Signal Hill site has locked up, get in the truck and get up there and do the reset."
Joe responds, "I ain't doing it, last time it took me 4 hours driving through the snow just to get there. I'm staying right here at my desk, because we now have Newmar's DST-8-RB DC reboot panel installed, now all I have to do is log on to the internet and can remotely cycle the power. I'll do it right now; the site will be back up in just a few minutes…"
This scenario demonstrates the great benefit of this reboot DC power distribution panel. It virtually eliminates service hours to reset DC equipment, and reduces down time due to remote equipment lock- up. By simply logging into the web panel interface, you have on-off power control of the eight 15 amp circuits. The system also offers automatic load priority programmability allowing you to specify the timing and sequence that power is applied after an outage. The loads are all protected by circuit breakers which are configured with an A-B redundant 48 volt input bus for high reliability.
Find more information on the DST-8-RB DC Reboot Panel