Remote Site Monitoring:
SPM-200 Site Power Monitor
Remote Site Monitoring Of Critical DC Power Conditions
Sensor Data
DC Bus/Battery Voltage
DC System Amperage/Battery Charge-Discharge Current
AC Voltage
Ambient Temperature
Dry Contacts/Alarms
Firmware
Programmable Alarms
Data Logging
Ethernet Camera
Reporting Via
SPM-200 Firmware Update - Click Here
Internet - Software Included
E-Mail
Cell Phone

Web-enable and integrate intelligence to any site's AC and DC power system for 24/7 monitoring, alarm condition notification, and data logging of vital electrical functions. All programmable, accessible, and managed via the Internet: TCIP or SNMP. View current conditions and log 30 day history of DC and AC power status at remote sites before dispatching personnel.
The Site Power Monitor is designed specifically for monitoring power supplies, rectifiers, batteries, converters, inverters, UPS, distribution panels, and AC power at communication sites, base stations, outdoor enclosures, and command vehicles via Ethernet or Wireless connection. The palm sized unit can be rack, DIN-rail, or wall mounted and is easily adapted to virtually any make of power system via nine sensor input ports which capture and stream critical data via the internet for analysis and logging of site history. Web page based programs are easily user configured for site parameters with up to 50 desired alarm conditions settings and multiple automatic notification options by e-mail, PDA, and mobile phone.
Sites without internet access can use the monitor solely as a data logger that captures and retains 30 days' data, ready for download to lap top for site history file and analysis of component performance and failure conditions.
Sensor Input Examples
9 Ports Available, See Complete List Below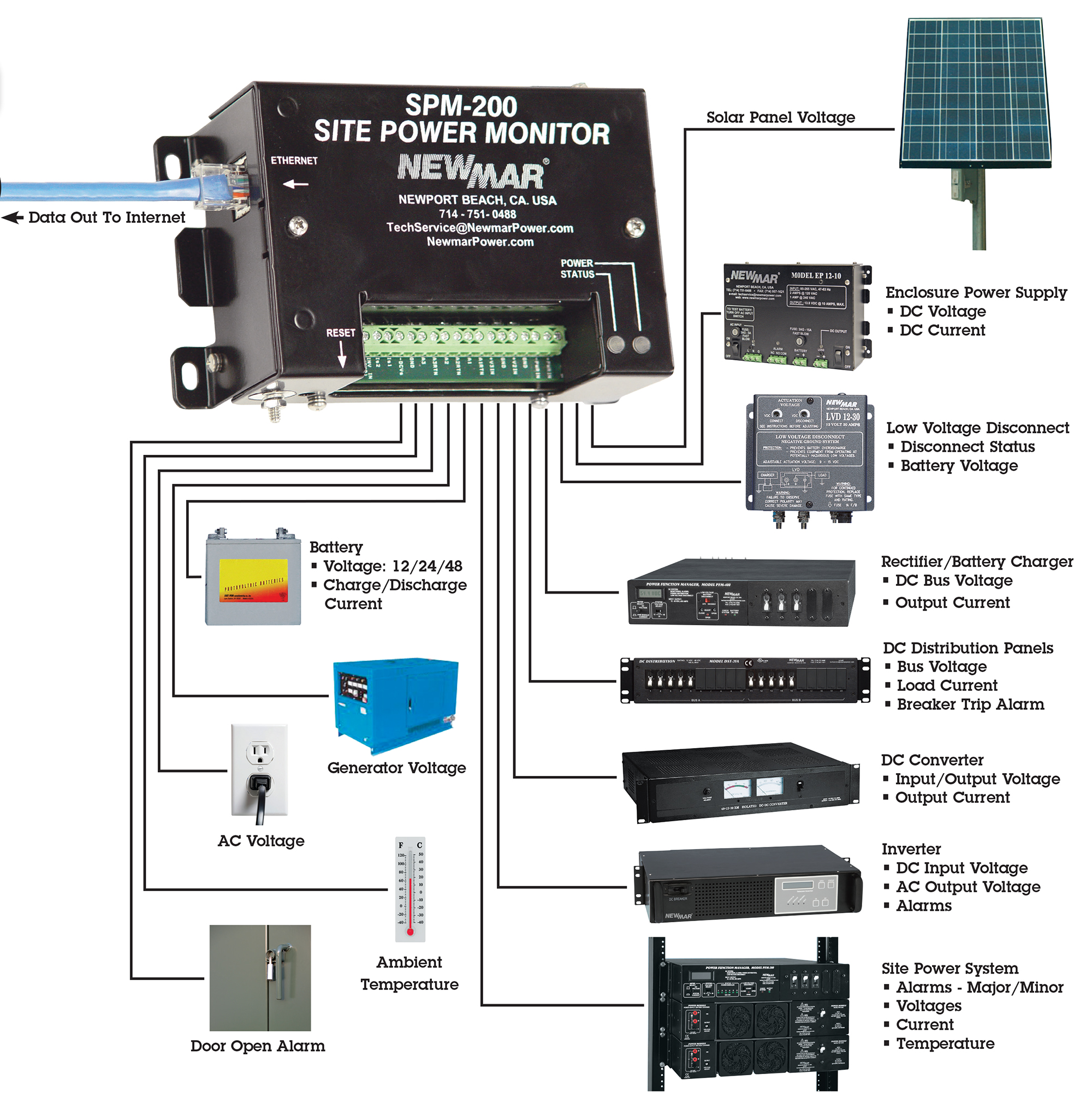 Monitoring Options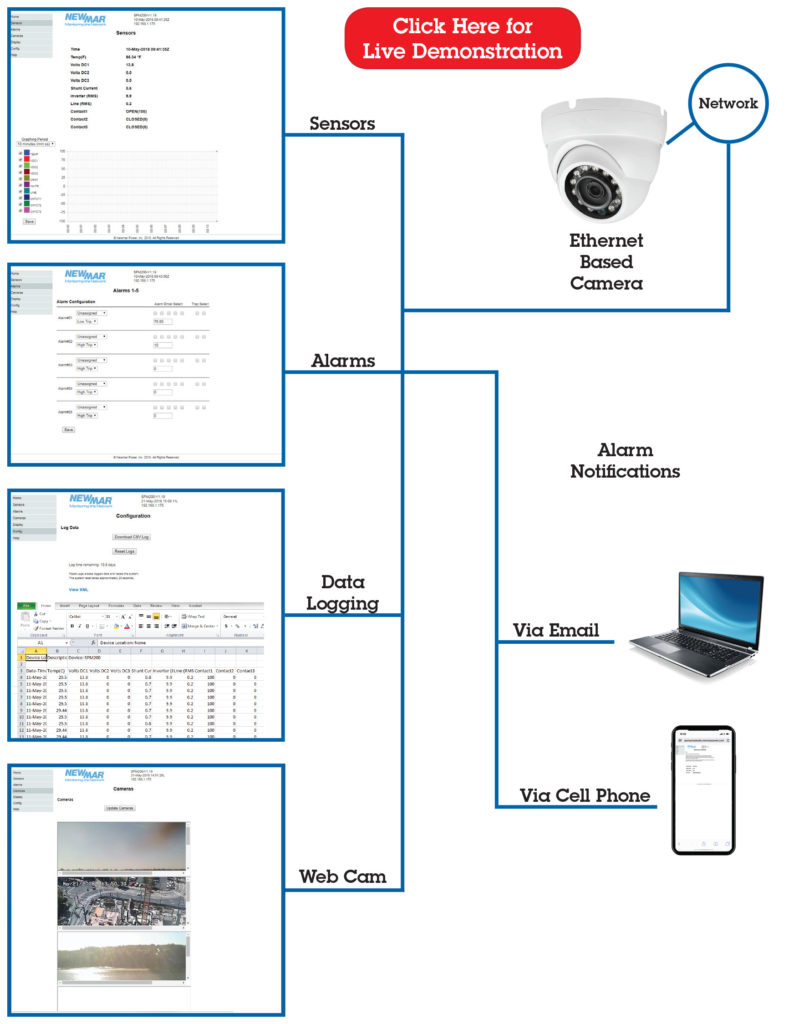 Site Power Monitor
Model: SPM-200
Specifications
Inputs
Power Source Voltage: 9-60 negative ground, 250 mA max.
Monitor Inputs: 9 Total
Voltage:
DC: 3 Ports:
2 each: +0-40V DC
1 each: -36-60V DC
Accuracy: +/- 3%
AC: 2 Ports:
115V AC ( 90-135) utility power (L-N or L-L)
Inverter output (floating)
Accuracy: +/-5%
DC Current: 1 Port
+/- 100mv, 100 amp differential shunt voltage
Read battery charge/discharge current, or load current
Optional Shunt required for monitor package: P/N 575-2000-0
Accuracy: +/-5%
Dry Contact Switch Sensors: 3 Ports
Possible uses: door open, water leak detection, smoke alarm, component fail, breaker trip, high temperature
Temperature Sensor
Located outside case of unit
Range: 20 to +60° C, 4° to +140° F
Accuracy: +/-0.5° C
Reporting
Ethernet Port connection: RJ-45, 10/100 autosense
HTTP - Web Access, Self-generated Web-page
SNMP - MIB with Gets, Traps, and Clears
Alarms - HIGH and LOW trip, 50 max, user-programmable
Logging - Excel logs created, time stamped, continuous graphing
SMTP/POP3 - email alerts, POP password
Data Formats: XML, PDA, WAP (cell phone)
Optional Console - Multiple Site Monitor with log aggregation and thumbnail camera views
Remote Firmware upgrades - no need to visit the site.
Local Data downloading and programming require and RJ-45 cross over cable (not included)
Data Screens:
Sensors
Alarm settings (customized web page)
Data logging
Camera feeds (4 max.)
Data logging: Remote Or Download Locally:
30 days + rolling history with 30 second interval refresh
CSV file compatible
Images: Ethernet Camera Enabled
Alarms
50 user configurable all with separate high/low trip settings
Notification by Via Internet, e-mail or mobile phone
User-programmable notification to 5 different e-mails addresses
Diagnostics/Indicators/Controls
Front panel LED's:
Input Power ON/OK
System OK
Flashing Activity Indicator Ethernet port
System reset button
Protections
Reverse Polarity
Input overvoltage
External 1A slo-blo fuse provided for DC power input
Mechanical
Case: Aluminum, powder coat
Size: 2.18" x 3.27" x 4.66"
Weight: 1 lb
Mounting options:
Wall mount
DIN-rail
19 or 23 inch rack mount (via optional bracket)
Input Ports:
Compression Screw terminal block
14-26 awg wire
Optional Accessories
Isolated DC Converter

For powering AND a -48 VDC source. Model: 48-12-1i

Rack mount panel for 19/23" racks (pictured below)
Environmental
Operating Temperature range 20° C to 60° C
Warranty: 2 years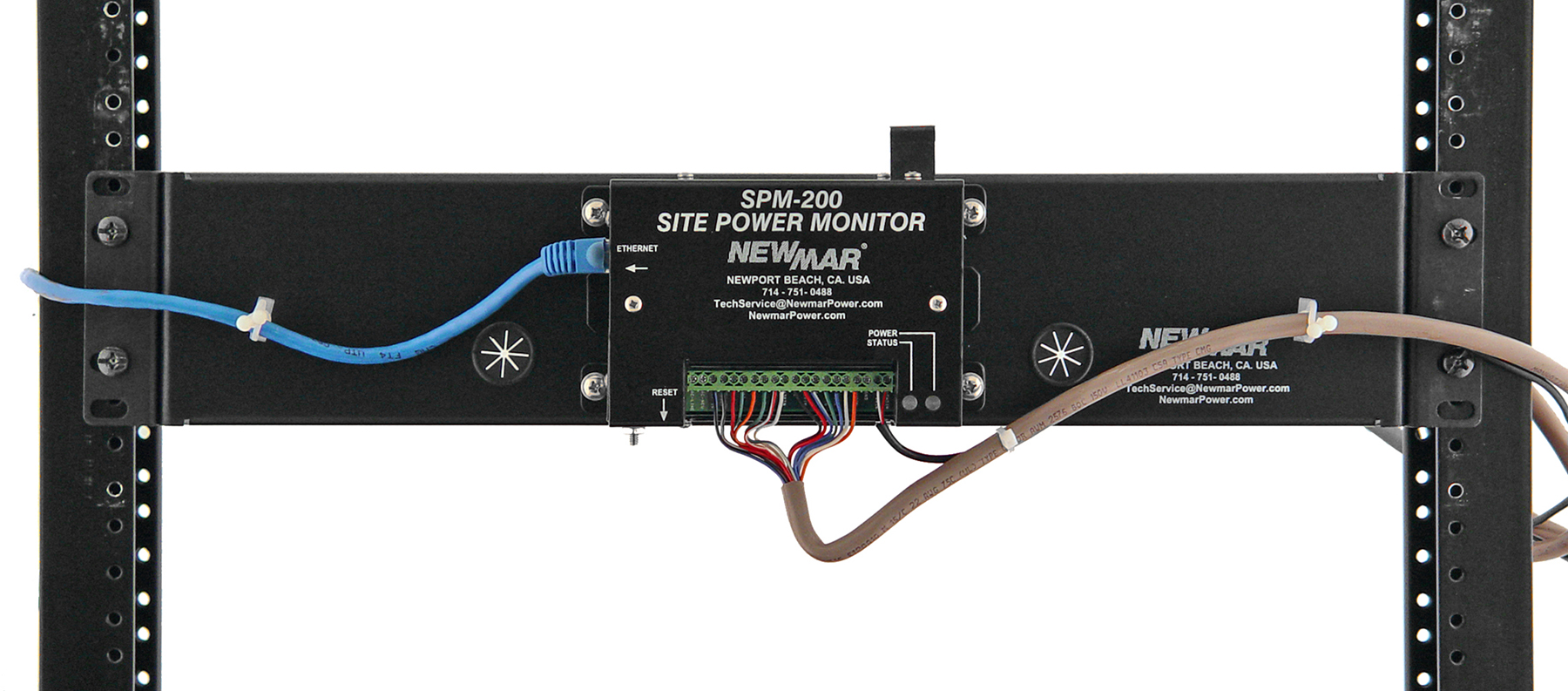 Remote Site Power Monitor, SPM-200 with optional rack mount panel for 19/23" racks